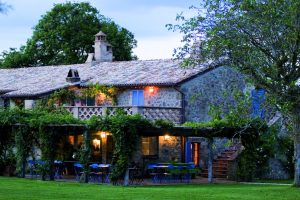 We are going to Italy in September 2018!
A week of yoga give a chance to completely de-stress, regain lost energy and clear your mind and regain lost creativity.
We are going to Locanda della Quercia Calante. A charming yoga retreat centre close to Orvieto in the heart of Umbria. 
The centre uses solar energy with advanced climate control systems.
 The surrounding park boasts a beautiful, unique lake shaped pool which seems to be carved out naturally from its surroundings. The pool divides into 3 sections via rocky waterfalls and there is a whirlpool bath in the centre.  The food is sourced locally and the cuisine reflects the locality. 
Included in the Holiday ....
Dates & Times: From 2pm on Saturday Sept 22nd to 10am Saturday 29th 2018
Facilities: Include a fully equipped yoga studio and swimming pool for guests. 
Accommodation: Twin rooms with private bath. A few single rooms with private bath. 
Meals: Full vegetarian and vegan menu provided.  Mid morning and afternoon tea and coffee with snacks provided.
The Yoga: Daily Iyengar classes morning and evening. Yoga in the morning only on two days by mutual agreement with the group.
Eligibility: For those with one to two years experience of Iyengar yoga and in general good health
Pregnancy: You need to have practised Iyengar yoga for a year to attend this holiday.
Not Included in the holiday……..
Your flight, holiday insurance & transfers.

Please

do not

book your flight or insurance until you get confirmation of the holiday going ahead. 
Book your holiday
Single Room
Full Price £1015

Direct Debit discount: Please contact me or click the link below to set up direct debit and receive a £30 discount. 
Click here to create a DD.
There are a maximum of 12 places. Four rooms have been allocated as singles on this holiday so please consider sharing with someone you know.  The venue and surrounding area have plenty of space for those who wish to spend some time alone.